We are Manufacturer, Supplier, Exporter of PU ( Polyurethane ) Pads, PU ( Polyurethane ) Damping Pads, PU ( Polyurethane ) Resting Pads, Polyurethane Rest Pads, Polyurethane Seals, Antivibration Pads, and our setup is situated in Pune, Maharashtra, India.
Press Pads, Urethane Press Pads cost from high-quality material in any hardness color shape on size, press pads are used in many different application most are extremely abusive to similar material.
Polyurethane Rest Pads
Polyurethane Rest Pads means : Manufactuter of Polyurethane Pads, Pu Damping Pads, PU Testing Pad, Polyurethane Rest Pads and PU Rest Pads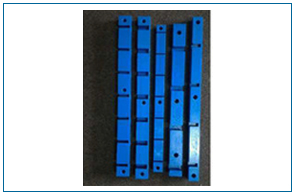 Product Details:
| | |
| --- | --- |
| Color | Blue |
| Material | Polyurethane |
| Brand | Sarthak |
| Hardness | 60 Shore A - 75 Shore D |
| Abrasion Strength | 52 Cubic mm |
| Thickness | 20-250 mm |
With an impressive growth record in this highly competitive industry, we are providing a qualitative range of Polyurethane Rest Pads.
GET A QUOTE
Polyurethane Seals
Polyurethane Seals means that Seals made of the new Polyurethane. Generation are still sufficient Flexible at low temperature and satisfactorily stable at high temperature.
Antivibration Pads
Vibration Isolation is the process of isolating an object such as a piece of equipment from the pads or sheets of Flexible material such as elastomers rubber cork fam and laminate Material Elastomer Pads.